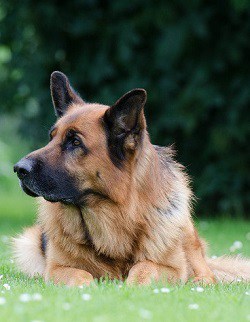 If you are about to buy your first German Shepherd, well then you might be wondering what an ordinary German Shepherd price is. Like any other "product" the quality of the product determines the price.
German Shepherd puppy prices are all over the place. Exactly how much should one cost? The answer depends on what you are looking for and other variables. It is simply impossible to set a constant price for a living animal – the price is determined by a range of variables.
I will start telling where to find the "cheapest" German Shepherds, and then work my way up.
Rescue Dogs
There are lots of great German Shepherd rescues that charge a reasonable fee. These rescues have lots of costs when rescuing dogs – which is why they they are not just giving them away. Some rescues have an adoption fee, and I am not quite sure what this is. The price from is normally $75 from an SPCA or $500 from a no-kill shelter. However these prices vary from shelter to shelter.
American/Canadian Line
This is the most typical German Shepherd breed, at least the majority of the population will picture this breed when they hear the term "German Shepherd". When buying a German Shepherd it should at a very minimum be AKC certified. The price range from $200 – $800. It is also possible to find a free German Shepherd, if you can live without the paperwork – and you just want to give a dog a new home. I highly recommend deworming and vaccinating the dog.
Remember: The price does not matter in the end – You will always end up with a great friend.
German Working Line
The price highly depend on the breeder, the facilities, bloodline, etc. Typically puppies tend to be in the $1000 range. If they have received additional training, the price might be higher. I have seen trained working dogs go for $17.000 to the Police Dept, and there are breeders that charge around $85.000 for specialized dogs.
German Show Lines
Dogs adhering to the breed standard are even more costly. While a free dog can be an excellent companion, these German Shepherds are beautiful and extraordinary creatures. 7 – 8 week old puppies start off around $2.500 and work their way up to $4.500 depending on their pedigree and titles and awards held. When the puppies grow up their price only increases – especially if they have won contests – and they can easily run for $10.000 range.
I hope you now have a clear view about a German Shepherd price. If you are "only" looking for a companion you should never go above $1.000 – and if you are looking for a show/working dog the sky is the limit.