German Shepherds are a common breed in Hollywood films. I sometimes feel like watching a movie featuring my favorite breed. Maybe you feel the same way. I've made a list of some movies featuring German Shepherds. Fore a movie to be described as a German Shepherd movie, I believe the German Shepherd needs to have a small impact on the storyline. Please let me know if you want one added to the list.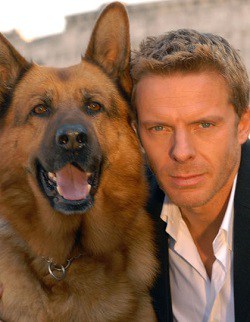 I Am Legend (2007), Robert Neville (Will Smith) is the last man left on earth after a terrible virus has transformed all people into mutants/zombies, we follow Neville in his everyday life with his dog Sam and his daily grind of trying to find a cure.
Terminator (1984),  In the original Terminator movie you will quite often see dogs – including a German Shepherd, barking as the terminator (Arnold Schwarzenegger) approaches. In fact,Wolfie the German Shepherd, owned by the director of the film, James Cameron, can be seen barking at the terminator in the Motel scenes as the terminator searches for Sarah and Kyle later on in the film.
Inspector Rex (1994-2008),  I know this isn't a movie – but it had to be on this list! A 14 year running series with a German Shepherd in the lead – who doesn't love that? Plot in short; A recently divorced cop adopts a police dog who lost his former companion, together they solve crimes in and around Vienna.
Ace Of Hearts (2008), Officer Daniel Harding is a distinguished member of the K-9 police unit. His partner and best friend is Ace, a police dog. When Ace is accused of mauling a suspect, an overzealous DA convinces police authorities that Ace should be euthanized. Refusing to give up on his beloved companion, Harding's unfaltering belief in his partner and family leads Harding on a mission to clear his longtime partners good name.
Cats & Dogs: The Revenge of Kitty Galore (2010), The ongoing war between the canine and feline species is put on hold when they join forces to thwart a rogue cat spy with her own sinister plans for conquest.
Shooter (2007), A marksman living in exile is coaxed back into action after learning of a plot to kill the President. Ultimately double-crossed and framed for the attempt, he goes on the run to find the real killer and the reason he was set up.
K-9 (1989), To stop an elusive criminal, a maverick detective enlists the aid of a police dog who's an unusually intelligent smart alec.
K-9: P.I. (2002), Dooley and his K-9 partner Jerry Lee are ready to retire from the police force. But before he can retire with his pension he must work as a P.I. to find a set of high tech computer chips.
Reservoir Dogs (1992), After a simple jewelry heist goes terribly wrong, the surviving criminals begin to suspect that one of them is a police informant.
Beverly Hills Chihuahua (2008), A cheeky comedy about a spoiled Chihuahua finds herself kidnapped while her owner is on vacation. She finds herself in the company of a German Shepherd who helps her to evade the evil dognapper.
Please let me know if you know of another great German Shepherd movie, then I will definitely add it to the list.