How much does a German Shepherd cost? Well that depends on the German Shepherd and where you get her. If you happen to know someone who can't keep their German Shepherd (perhaps they're moving or have discovered that their child is severely allergic to dogs), then you might be lucky to get one for free.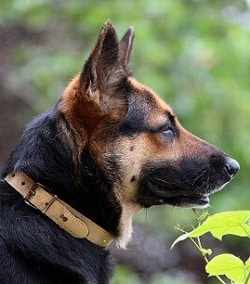 You can also adopt a German Shepherd from an animal shelter or rescue organization (I highly recommend this – you might as well help save a German Shepherd) for a small fee – sometimes less than $100 for animal shelters, and $100 to $200 for rescue organizations.
A German Shepherd puppy bought from a respected breeder will usually cost between $300 and $900 (or more), depending on whether she is a normal German Shepherd, show-dog or a working dog. Adult German Shepherds who are proven show dogs or work dogs cost $6,000 to $7,000 or more.
Keep in mind that these prices include only the German Shepherd, not any of the expenses for food, supplies or veterinary care, which may in many cases equal or exceed the cost of the German Shepherd each year.
Why Do The German Shepherd Cost Vary So Much?
The price of a German Shepherd depends on where you get her, her breeding and what, if anything, he's trained to do. German Shepherds obtained from animal shelters and rescue organizations are relatively inexpensive because these organizations charge only enough to cover their costs.
Reputable breeders, when pricing their German Shepherds, must factor in the expenses involved in breeding, raising, training and showing their dogs. A puppy whose parents (and often grandparents and other relatives) are proven show or hunting champions has the potential to excel in these areas as well and will cost more money than a puppy who is the offspring of just average parents. Adult German Shepherds from proven show or hunting lines are more expensive than similarly bred puppies because of the additional costs of raising a puppy to adulthood and because it's easier to determine overall quality in an adult dog. Finally, the most expensive German Shepherds are those adults who have already proven themselves as show dogs, K9 or breeding dogs. There's very little risk involved in purchasing a proven German Shepherd – and these dogs will be priced accordingly.
How Much Does A German Shepherd Cost Annually?
The cost of dog-keeping varies considerably depending on your German Shepherd (including size, age and overall health), the quality of supplies and equipment,and even where you live. The following numbers should give you an idea of what to expect.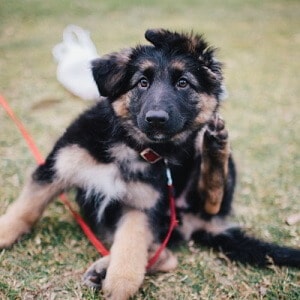 For A German Shepherd Puppy In Her 
First Year

:
Veterinary care, including general care and laboratory tests: $100 – $200
Immunizations: $50 – $100
Spay or neuter: $50 – $200
Internal and external parasite treatment and control: $100 – $150
Food: $150 – $250
Miscellaneous expenses, including collar, leash, bowls, toys, grooming supplies and obedience training: $200 – $225
Total: $650 to $1,125 for the first year only. Note that this total does not include the cost of the puppy.
For An Adult Dog The Annual Costs Would Involve:
Veterinary care, including general care and laboratory tests: $50 – $125
Immunizations: $40 – $75
Internal and external parasite treatment and control: $100 – $150
Food: $200 – $400
Miscellaneous expenses: $100 – $125
Total: $490 to $875 per year.
These figures are estimates only and they do not include expenses related to illnesses, injuries, showing, competition, breeding, boarding or travel. Senior dogs usually require more health care than adults or puppies.From these figures, it's clear that the care of a reasonably healthy German Shepherd living to the age of 12 to 14 years could easily cost $7,000 to $15,000 or more.