German Shepherd Names: Picking The Perfect One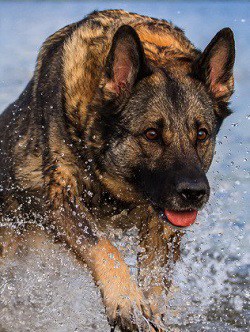 First of all I want to congratulate you on becoming a German Shepherd owner! I wish you great times to come. Let's go find you a great name in our huge list of German Shepherd names.
You're probably here because you've recently adopted or are thinking about getting a German Shepherd and need the perfect name to reflect that lovely dog. I've comprised a huge list of German Shepherd names – you just have to look through it. Don't forget to go check out my post on how to care for your German Shepherd puppy.
It is very important to find the right name for your new puppy. The dog's name needs to be a representation of you, just like when you are picking a name for a child. It says something about the relationship between you and your dog and your relationship to it.
There are many different German Shepherd names, and choosing the right one is not always easy. Some German Shepherd names may cause people to judge the dog in advance and thus be either positive or negative.
The dog's name may also be chosen based on how the dog should be used. Should the dog be used as a pet or a dog who works as part of a public authority, it is important that the dog's name is chosen to reflect its image. Just image a K9 dog named "sunshine" – it does not quite fit, does it?
List Of Popular German Shepherd Names
The trend is clear, we are naming our dogs with more human like names.
Max
Jake
Buddy
Jack
Cody
Charlie
Bailey
Rocky
Sam
Buster
Choosing The Perfect German Shepherd Name
Your German Shepherd's name says as much about you as it does your dog. The name you pick, can help define your relationship with your dog – if you choose a human name, it might mean your dog i no different than a child. While if you choose a name like "Hunter," "Tracker" or "Champ" it might help illustrate a working German Shepherd's function in society. A unique name displays your ingenuity to your friends, while a popular, well-worn dog name might indicate that you like the classics. And other names might point out a fun or beloved quality or quirk of your pet's, be it a physical quality (think "Snow" or "Blackie").
But whether you're thinking quirky or popular, here are some things to keep in mind when naming your German Shepherd:
The most important thing is to choose a name your German Shepherd can recognize and easily respond to. One or two syllables is ideal. Your German Shepherd might have trouble coming to you if you are yelling "Maximus the 4th" from the other end of the forest.
Pick a name that suits the German Shepherd at all ages.
Don't name your German Shepherd something you wouldn't be comfortable yelling in public. I've heard the name "Killer" – it's just embarrassing.
If you have to pick a long name – always think of a call name.
Alphabetized List of Possible German Shepherd Names
If you didn't find a name you liked in our "German Shepherd Names"-list, I'd recommend you check out Dog Names By Theme, which have a ton of dog names by theme (Star Wars, Presidential, Hunger Games and so on). Or you can go check out mydogsname.com, the entire site exists just to help you find a name.
Share your favorite German Shepherd name!
Have you find the perfect name in our "German Shepherd Names"-list? Share your favorite German Shepherd name and a personal story if you have one. If you do have a story, tell us why you chose the name you did or let us know why the name is special to you.